Butterflystorm is a telematic interactive installation inspired by the aphorism of butterfly effect.
The installation consists of a bundle of applications that allow for remote locations to communicate and interact. In this manner, the piece proposes the creation of a common space in which to experience and reflect upon the effects of communication technologies on our perception of space and time. Butterflystorm draws attention to how these technologies are creating communities reaching beyond national borders, and encouraging processes of remote exchange and interaction.
A video-based motion capture system registers the movement of live butterflies in a tank, together with the activity of the public around them. Using a pixel-tracking application these movements are transformed into control data and broadcast through the web to the other side of the planet.
The constant changes in the movement in and around the installation are translated into evolving control data. This is then extracted from the movement, analyzed and used to modulate parameters that define the processing and mix of visuals – images of clouds and skies.
The audio is created by filtering white noise – sending the image histogram information to a multiband audio filter – and mixing the outcome with sounds of rain and thunder.
The application also includes a sort of chat, which allows the audience on both sides to exchange messages. These appear on large screens on the other side, mixed with the visuals and animated with the data extracted from the motion of butterflies and their audience.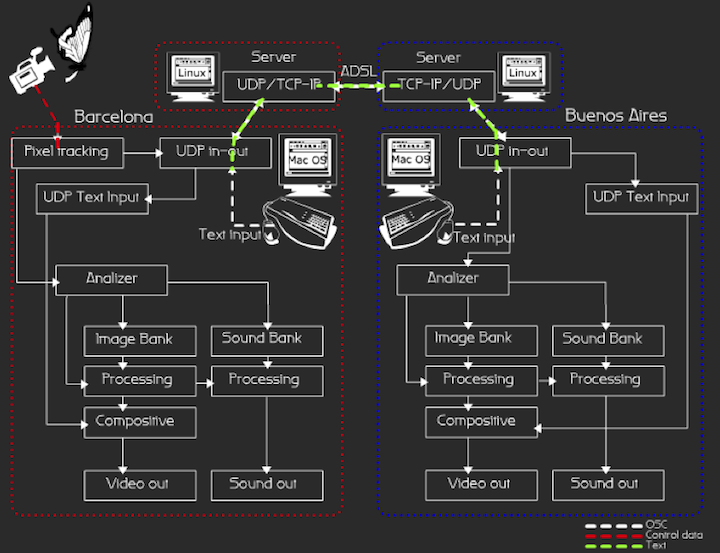 A LAN was installed on each side, composed by a Linux server and a Macintosh terminal.
Various software modules were developed for Mac OS and Linux platforms.
Applications developed in Max/MSP and Nato.0+55 for Mac OS, and PD (Pure Data) for Linux.
The communication is based in OSC protocol over UDP in the LAN, and over TCP-IP between servers.

Mac OS software:
The two terminal's applications were programmed in Max/MSP environment, using Nato.0+55 objects and other externals.
There are two similar applications ("butterfly" for the Barcelona terminal, and "storm" in Buenos Aires), one for each end, each composed by various modules with specific functions. The only difference between both is that the "storm" application lacks a pixel tracking module; instead it receives this information - the control data produced by the movement - from the other application ("butterfly") through the web.
Concept & programming: Caen Botto
Collaborators:
Ramiro Cosentino (networks and Linux guru)
Eduardo Imasaka (production in Buenos Aires)
fusilaje & Sergio Lanzarote (production in Barcelona)
Butterflystorm was presented simultaneously in Barcelona and Buenos Aires, on June 8th, 2002, as a part of the "III muestra de arte sonoro y visual", in the "Centro Cívico Convento de San Agusti" (Barcelona, Spain) and the "Expanda" event, in "El atajo" studio (Buenos Aires, Argentina).